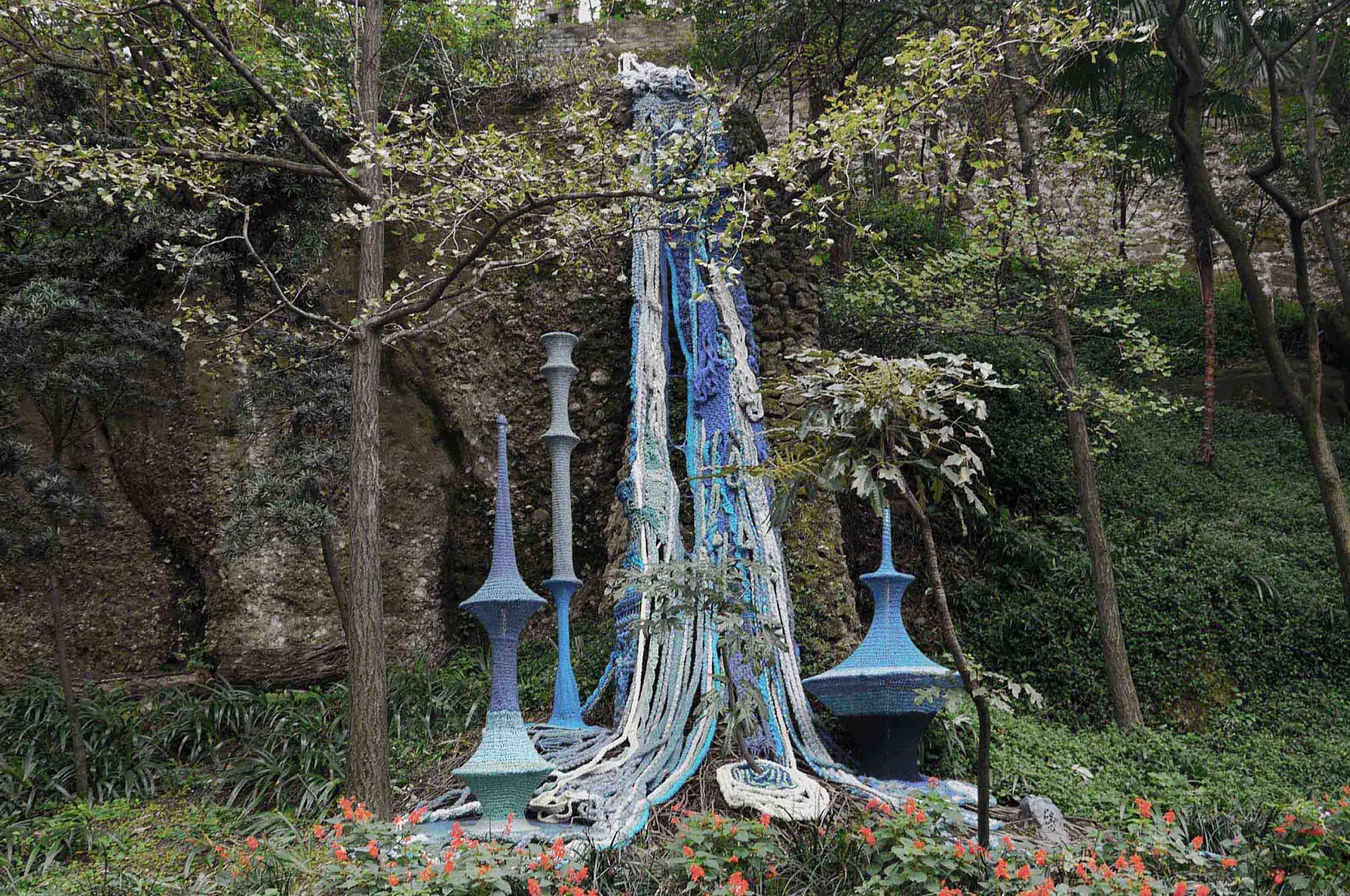 Dal 2010 Elena Redaelli ha intrapreso una ricerca incessante viaggiando, sperimentando e collaborando con realtà internazionali. I suoi progetti spaziano dalla scultura tessile, all' arte ambientale e partecipata. "Attraverso la mia ricerca esploro processi di generazione e trasformazione della materia, applicando diversi livelli di controllo e indagando i limiti tra autorialità e partecipazione attiva. Talvolta il materiale prende il sopravvento, altre volte sono i partecipanti di un progetto o l'ambiente stesso a farlo, risultando in un dinamico e continuo scambio. Nei miei progetti applico una commistione di tecniche differenti prese dalla scultura, dall'artigianato, dal disegno e dall' estetica relazionale. Ricerco e utilizzo tecniche antiche: tessitura a telaio, arazzo, crochet, feltro, ricamo, annodature e carta fatta a mano. Nelle mie installazioni, che si sviluppano su larga scala, unisco metodi di lavorazione lenta a nuove tecnologie. Tutto ciò che riguarda il tessile è sempre stato estremamente affascinante per me.
Durante i miei viaggi di lavoro in Europa, Asia, USA e Africa ho raccolto informazioni e condiviso conoscenze sul vasto mondo delle fibre. Una ricerca infinita che continua tutt'ora.
LINK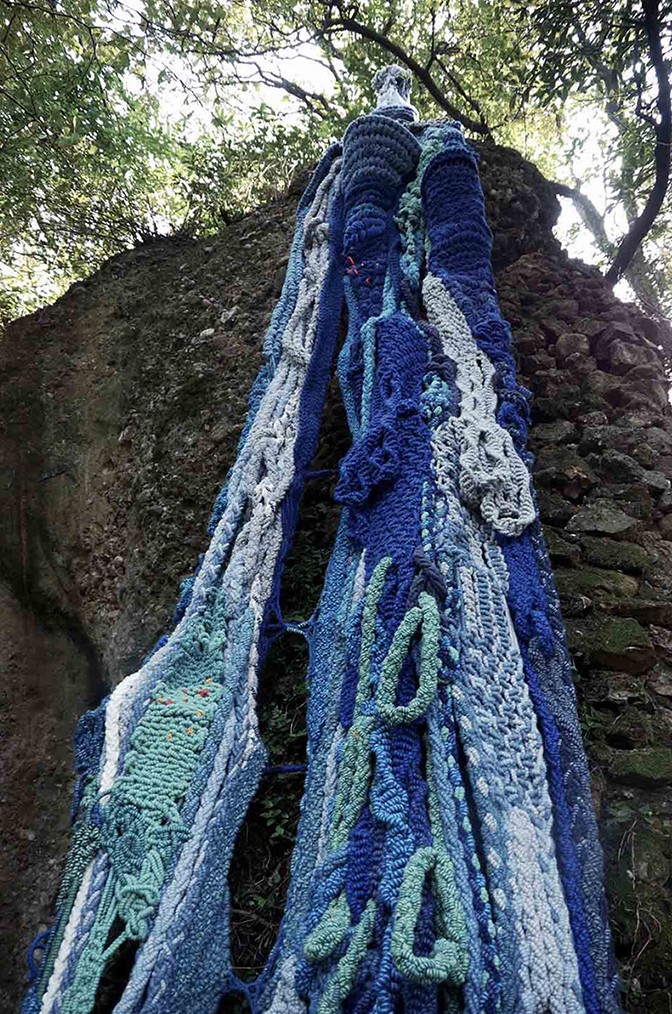 Gutta cava lapidem , Flowing inspiration 2015, Yu Lei mountain, Dujiangyan, Chengdu, Chin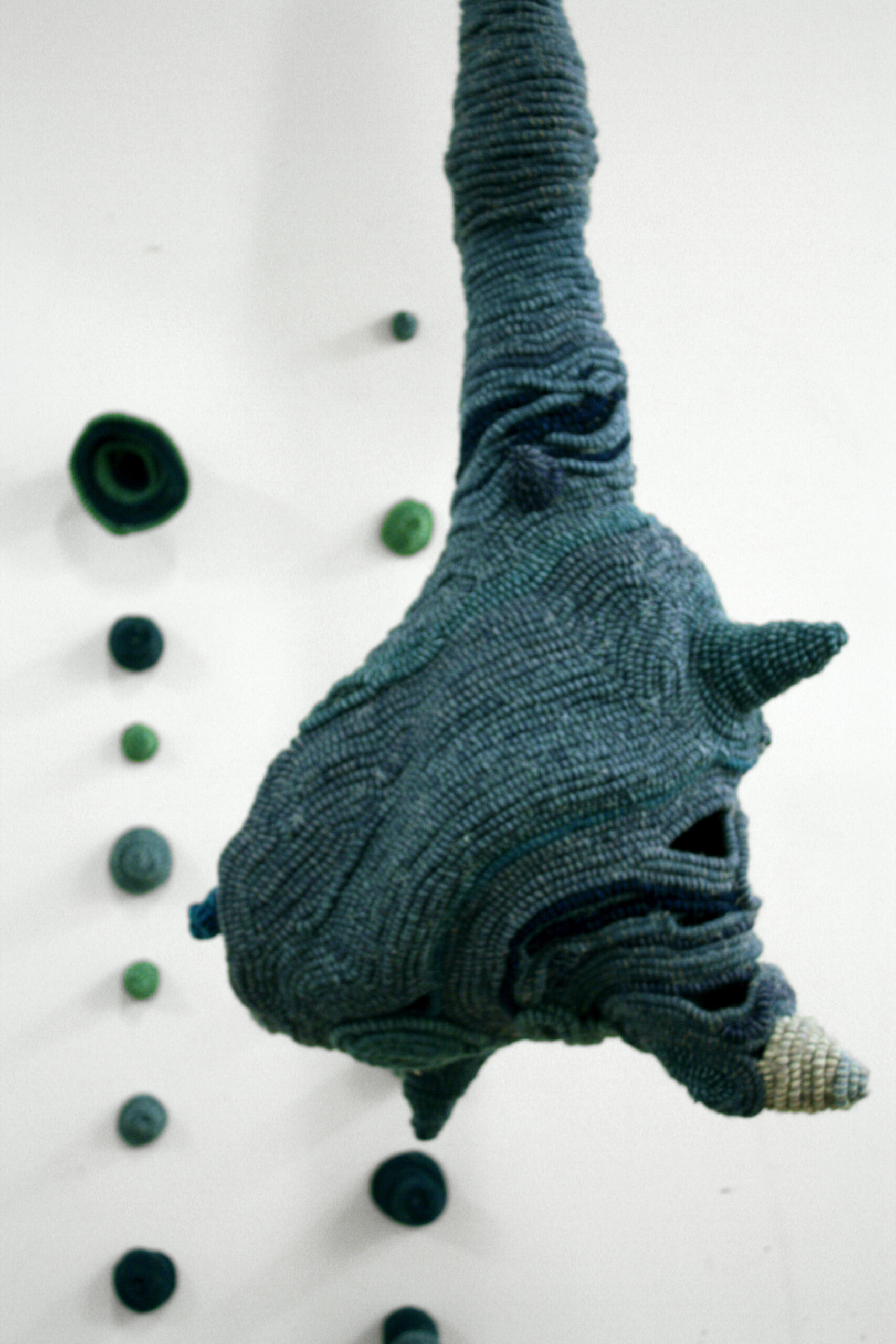 Drops, 2016
Textile installation: Norwegian wool, yute.
Variable dimensions
Geografie d'altrove, Arazzo in carta e cordame nautico riciclato. 2011, Cm x140x180
Città invisibili, 140×180 cm
.
Elena Redaelli  (Erba (Como) 1981), dopo la laurea all'Accademia di Brera, matura la sua attività in ambiti internazionali. All'inizio del 2020, ha fondato con l'artista Olandese Karin Van der Molhen il collettivo: Z.A.C. Attraverso processi di condivisione, approfondimento e produzione fra professionisti, si sta ridefinendo il contesto di quelle pratiche site-specific, legate intimamente al territorio e ai suoi elementi costitutivi, umani e non. 
CURRENT AND UPCOMING PROJECTS 2022-2023
​
– ZAC (Zest Art Collective). A collaborative platform for creation and discussion around environmental, site-responsive arts.
Members: Sally Kidall, Karin van der Molen, Lucia Loren, Imke Rust and Elena Redaelli
– Contextile Biennial, Guimares, Portugal (Speaker, Textile talks)
– Manibus – AIR program, Fasano, Puglia IT
– The soft Revolution, group show, Busto Arsizio Textile Museum
– Fiberstorming, BAF (Bergamo Art Fair)
– Cafka Biennial, Canada (ZAC, invited Artis) ​
SELECTED SOLO EXHIBITIONS: ​
2020  Uendelig langsomhed, Trappe Galleriet, Viborg Kunsthall, Denmark. 2019  Care, preserve, connect – Kunst Treff Punkt, Verein für Internationale Waldkunst e.V, Darmstsdt, DE 2018  NORI MONIGATARI, Tokiwa Museum, Ube Biennale: International sculpture competition, Ube City, Japan. Unravelled backgrounds, Zarya Centre for Contemporary Art, Vladivostok, RU 2017  Story of a place, Tsung-Yeh art and cultural centre, Tainan, Taiwan Vestige, Upper Ray Gallery, Treasure Hill, Taipei, Taiwan, Curator: Nicole Lai Weaving a better future, WAB, Beijing, China 2016  Faden werk, Kunstverein in Bad Godesberg, Bonn, Germay.
LINK